Sri Lanka Insurance - Home Protect Lite
Sri Lanka Insurance presents "Home Protect Lite," a 1st Loss basis home insurance policy designed to meet your specific needs. With Home Protect Lite, you can choose from a range of five specified packages, providing coverage from 1 million to 5 million, all at an affordable premium.
Our trusted home insurance policy offers you the peace of mind of protecting not only your home but also your valuable belongings. We understand the importance of safeguarding your investment, and that is why we have tailored our "Home Protect Lite" policy to provide comprehensive coverage at a price that suits your budget.
Insurance Packages
| | | | | | |
| --- | --- | --- | --- | --- | --- |
| Plans | Option 01 | Option 02 | Option 03 | Option 04 | Option 05 |
| Sum insured Rs. | 1Mn | 2Mn | 3Mn | 4Mn | 5Mn |
| Annual Premium with Taxes | 1,900/- | 2,500/- | 3,400/- | 4,300/- | 5,300/- |
**Subject to policy terms, conditions and exclusions as per the standard insurance policy
Insurance for all from the largest & strongest National Insurer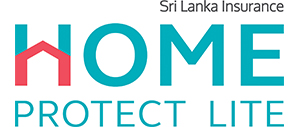 Benefits
Home Protect Lite provide protection to your house and its content against following perils
Fire/Lightning
Malicious damage by any person(s)
Explosion
Natural Perils including Cyclone/Storm/Tempest/Flood/ Earthquake, Tsunami etc.
Electrical short circuiting(Electrical damage) for electrical and electronic contents only
Bursting & overflowing of water tanks, Apparatus and pipes.
Aircraft damage
Impact Damage
Burglary involving forcible and violent entry/exit (for contents only) Damage to the building caused by burglary of house breaking.
Key Features
Online Purchase Facility
Convenient claim settlement process
No declaration of list of items insured at the beginning of the insurance
Ability to purchase the policy instantly
Affordable premiums
Less documentation and speedy service delivery
Eligibility
Policyholder should have an insurable interest on the asset
Policyholder should be eligible to sign an insurance agreement as per the legislation framework of Sri Lanka
Insuring property / assets should be within the geographical limits of Sri Lanka
The policy holder must made accurate disclosure of the risks particulars which shall be the basis of this insurance
Why should I select Sri Lanka Insurance as My Insurance Partner?
Sri Lanka Insurance is the pioneer insurance company in the island with a history spanning over 60 years. Being backed by the state has added to its strength and credibility while it has the most experienced technical knowledge base. Its Life Fund in excess of LKR 156.7 billion  and asset base of over LKR 274 billion are unmatched in the industry.
Learn More